You'll always get more for less cost with Rivenbark Media versus website firms.
In terms of pricing, Rivenbark Media is going to be less expensive overall for equal or higher quality than big firms. I do not need to support a staff, support facilities or infrastructure that an website firm or agency would maintain. Many businesses begin building their website with the cheapest option available, only to start over months larger after wasting time, energy and money in the process. With me, you'll get your website designed and built right the first time.
Internet & Website Marketing Services
Rivenbark Media provides custom web marketing services to drive more customers to your business. I understand that your business strategy is unique. Whether you are selling products or services business to business or to the everyday consumer I can customize a website marketing plan that delivers results.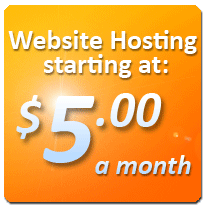 I design and develop many different types of websites, from blogs to online stores, and have packages to meet every need. Anywhere from a basic template website to a custom designed, high performance website with video or animation, I can provide the best website to fit you or your business. I am always on the lookout for the most competitive rates for hosting so that I can provide you with the lowest rates possible. Click here to learn more: Website Services
So you have a great looking website. So what? What use is spending all that money for a great looking website if your customers never see it? Effective, SEO optimized websites attract customers and lower the cost of advertising on the web. I use the latest and best practices in website optimization to help your website rise in the search results on all the major search engines. Click here to learn more: Search Engine Optimization (SEO) Services.
Ever wish to be on Page 1 of Google or BING for a specific search? Of course, we all want our website "front and center" when our customers are looking for our product or service. Pay-Per-Click (PPC) marketing is one of the quickest ways to get to the top of Google or BING and convert page views into customers. While SEO can take months to raise your website in organic search results, PPC can display your add almost instantly, right next to the top organic search results.
When you hire Rivenbark Media, I can help you determine what campaigns will help you reach your target customer. PPC ads can be placed on hundreds of websites over the internet: Search Engines, Google Display Network Websites, Microsoft Media Network Websites, and Social Media Networks. Click here to learn more: Web Marketing Services.
Rivenbark Media's Satisfied Clients:
Warning
: include(../testimonials.php): failed to open stream: No such file or directory in
/home/rivenb7/public_html/web-services.php
on line
85
Warning
: include(../testimonials.php): failed to open stream: No such file or directory in
/home/rivenb7/public_html/web-services.php
on line
85
Warning
: include(): Failed opening '../testimonials.php' for inclusion (include_path='.:/opt/cpanel/ea-php72/root/usr/share/pear') in
/home/rivenb7/public_html/web-services.php
on line
85
Full Services List:
Responsive Website Design
Responsive Website Development
Search Engine Optimization
eCommerce Websites
Mobile Websites
Website Hosting
Social Networks
Search Engine Ads
Social Media Ads
Flash Presentations
Online Video
Ad & Logo Design
Software Interface Design
Usability Testing
Software User Manual Design
Software Project Management
Competitive Analysis