Responsive Website Design & Development Services
Rivenbark Media provides a variety website development and design services. I have the most competitive rates for Marketing or eCommerce website development and consulting for complex software application development.
Responsive Website Development, & Hosting Services
Rivenbark Media provides custom web marketing services to drive more customers to your business. I understand that your business strategy is unique. Whether you are selling products or services business to business or to the everyday consumer I can customize a website marketing plan that delivers results.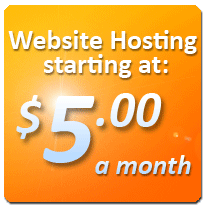 Every business owner needs a website as part of their marketing plan. However, this does not necessarily have to be a huge expense for your business. In fact, there are a few services out there that allow you to set up your own website... for free!
Depending on your business strategy, a free website may not be sufficient to achieve your internet marketing objectives. The free sites are known for poor quality and without guidance, setting up your website can be a hassle that produces little results. However, with just a little bit of my help, you can make your free website perform better than your competitor's $15,000 website!
Online Store, eCommerce Development Services
Have a great product to sell online? Need an online registration system for classes or lessons? I build online stores at a very reasonable price. Depending on your needs I can help you determine which eCommerce platform is right for you. All ecommmerce development plans are customizable to fit you needs and budget, call for details and a precise estimate: 251-279-9209
Software Consulting, Interface Design & Usability Testing Services
Rivenbark Media has expertise designing highly intuitive user interfaces. You can count on me to design an appealing interface that is feasible to develop from a software engineer's point of view. I have over ten years of experience working with software engineers on software development projects and intimately know the limitations of server-side and client-side technologies. I also understand the techniques used by software developers to estimate the cost of your project. Adding me to your software project management team can greatly reduce your project's cost and timeline.
I also conduct professional usability testing to streamline workflows for your customers. The facts found during my usability testing process will open your eyes to kinks in your product's workflow and defects in your software product. After the session you can rest assured that your customers will be able to use your product as intended.
Rivenbark Media's Satisfied Clients:
Client Testimonials
Full Services List:
Responsive Website Design
Responsive Website Development
Search Engine Optimization
eCommerce Websites
Mobile Websites
Website Hosting
Social Networks
Search Engine Ads
Social Media Ads
Flash Presentations
Online Video
Ad & Logo Design
Software Interface Design
Usability Testing
Software User Manual Design
Software Project Management
Competitive Analysis